Hotel or Villa? What to Expect When You Stay in an Exclusive Villa on Your Holiday?
What could be more daunting on your holiday than an inattentive staff upon arrival, right?
In research by ALICE, a hotel operations platform, together with a third-party firm, YouGov, they found out what frustrates the guests. 62% of hotel guests said they don't like UNFRIENDLY hotel staff.
This is an eye-opener for hoteliers but not so for luxury villa rental owners like us. Beyond the marketing mix of place, promotion, and price, guests look for these two. Excellent service (and to a lesser extent) technology.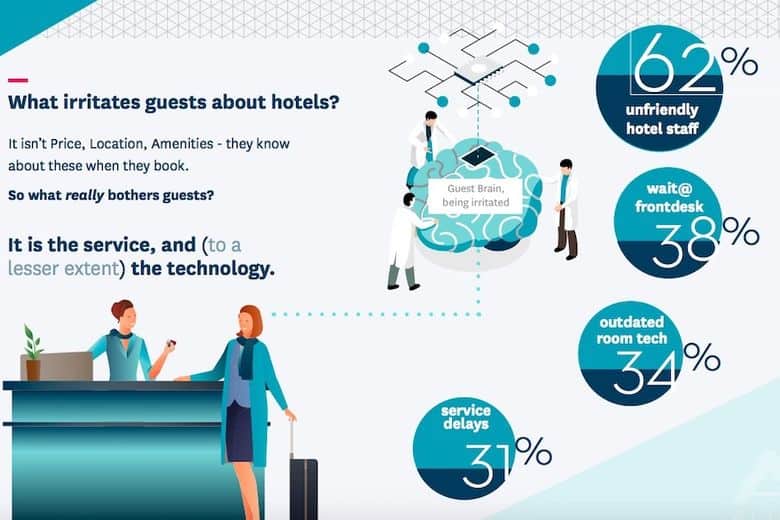 What do guests think about the hotel experience?
Guests deserve meaningful experiences since they're paying thousands of dollars. If hotels treat them as a commodity rather than a family, it's hard to add a personal touch throughout their stay.
And here comes the concept of dedicated staff in a private villa. It's far different from what the hotel staff provides. With such a huge difference in services and experience, the research uncovered:
During their stay, guests with frustrations expressed a demand for hotels to improve their operations and guest-facing technology. When discussing the most frustrating experiences about hotel stays:
Nearly two in five (38 percent) said the front desk taking too long to complete requests

More than one-third (34 percent) said outdated technology in rooms

Nearly one in three (31 percent) said delays in service from hotel staff
What guests should expect from the villa experience?
You might say that we will be subjective on this topic as we are on the other side of the spectrum. Yes, the survey enlightened us more on the negative side of the hotel experience. But from an objective point of view, we discovered that experience and service matter. Based on these reviews.
With such a cutthroat competition in the hospital sector, the temptation to treat every guest as a commodity is strong. But the aftermath of poor service can't fully justify the sales and objectives of the provider. It just reflects how much they value the guests. So, here in Pure Shores Villa, we have rested our case that every guest is treated like family. So, if you want to book a villa, these are what you should expect.
#1 Genuine Hospitality and Dedication
As a guest, once you book, the staff will arrange everything you need before your arrival. Most of the time, there will be personal emails back and forth to add a concierge touch to your stay. This would even include the itinerary, things to do, and transportation. What do you do as a guest? Well, even if you're a thousand miles away, the staff would have prepared it before your arrival. You just have to settle the reservation and voila! Not so much of lifting a finger on your side.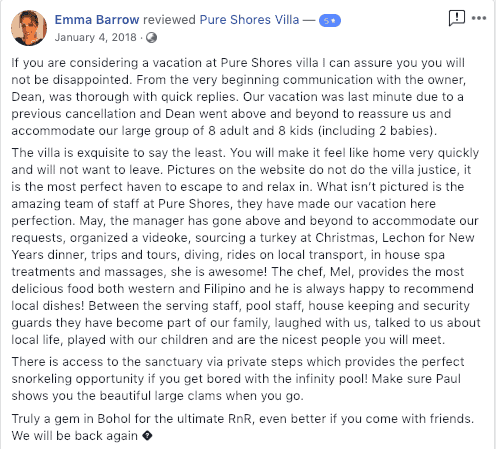 #2 Unparalleled Personalised Service
You're not just treated as a guest here but as family. That's how we run the villa. And even during your stay, the personalisation is consistent throughout your stay. Whatever you feel like doing, you can be sure that you'll enjoy the activities and the service. Lazy to explore other places? You can snorkel all day long below the beautiful exclusive marine sanctuary. Plus, you don't have to share the amenities with strangers. No more queueing at the buffet breakfast. Food is served as you wish.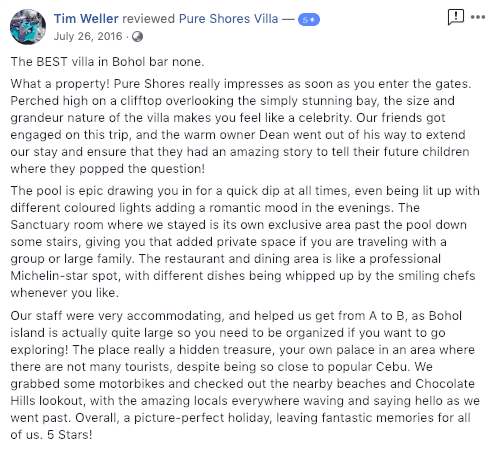 #3 exclusivity and economical for groups
You enjoy the amenities with your family and friends. No need to share with strangers or even worry about your transportation to/from the airport and other places. One thing's for sure, the uniqueness of booking a villa is all about the consistency in providing a meaningful experience. It's a place where you can do whatever you wish, from mindfulness activities to intimate gatherings or just basking in the beautiful sunsets.
Need we say more? Let us know if you're planning on your next holiday. We can arrange everything for you. At Pure Shores Villa, you are not just a guest, you're family. Book now.
We can also arrange other activities for you, whether it's in Bohol or the other islands. For things to do, you may check our Bohol page for more details.