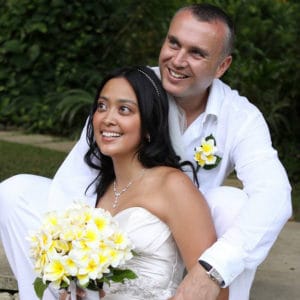 MEET THE OWNERS
Pure Shores Villa is close to Dean and Marcelle's hearts. What was once a dream being now a reality. They got married in Bali in 2009 and had the best day of their lives in a private villa. What a favourable day for them – the beautiful weather held on a cliff top overlooking the ocean waves and magical sunset – everything was beyond perfection as if painted by the finger of God.
It was a magical moment and letting go of it was never an option. They decided to pursue the dream, and Pure Shores Villa was born. They searched various islands across the Philippines, but Bohol kept coming back on their list. Not only as a beautiful tourist destination, but it is also relatively protected from the seasonal typhoons and a safe environment for guests.
To build and design their private villa – a cliff top setting just like in their wedding day – they wanted to find a hidden paradise, a beautiful, yet strategic location overlooking the best sunsets, untouched and away from the crowds. They stumbled across Anda by chance to visit a property for sale in 2010 but never heard about the east-side of Bohol. But having read about its natural beauty and amazing diving spots, they explored the secret place.
It was love at first sight – the beauty, the people, the serenity, the ambience – and until today what they experienced is indescribable, that it was so hard to put their fingers on it other than say, "calming." Architect Tony designed the villa and managed to translate the ideas, visions, research, and discussions into sketches and blueprints until the final stages – a one of a kind private villa in all of the Philippines.
See more
We're happy to share our living dream with you today for family and friends' getaway or a relaxing reunion in your own private serviced villa. A celebration of marriage or another important event where your dreams can also come true. And Pure Shores Villa can be forever a part of such magical moments. We both look forward to having you stay at the most mystical and stunning villa in Bohol, Philippines.
FROM DEAN & MARCELLE